Journals 2005/2006
Susan Holt
Arcadia High School, Phoenix, Arizona
"Investigating Indonesian Tsunami"
M/V Performer
May 9-26
Journal Index:
May 8 - 9 - 10 - 11 - 12 - 13 - 14 - 15

16 - 17 - 18 - 19 - 20 - 21 - 22 - 23
May 13, 2005

Today was an incredibly busy day. When I woke up, I realized that we were not moving forward. So I knew it meant they were deploying the ROV. The deployment will continue into the night.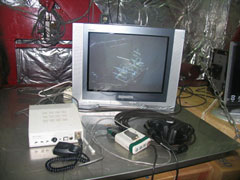 One of the monitors where the biologists will watch what is transmitted from the cameras on the ROV. The headphones and a microphone will be used by the biologists to communicate with the ROV operators.
(Click on thumbnails below for full version pop-up)




Steven Powers (ROV supervisor) on left and Glenn Schulten (ROV mechanic) preparing for the launch of the ROV.
The ROV is ready to be deployed. The control room is above it, where the ROV will be piloted and cameras monitored.
From left to right, Baban Ingole (Biologist), James Mercer, Steven Powers (ROV supervisor), Paul Tyler (Head Biologist), and Jon Copley (Biologist) make plans for the ROV launch.
Omar Flores and Mike Soroczak open the doors to the moon pool.
From left: Josh Talbot (sound), David Tappin (Co-Chief Scientist), Aaron Bradshaw, Kate Collins, Jon Copley, Paul Tyler, and Kate Moran (Co-Chief Scientist) preparing for the ROV dive.
George Myers (ROV mechanic) operates the winch to lower the ROV.
From left: Baban Ingole, Joelle Galeron, Kate Collins, and Jon Copley watch preparations to launch ROV.
ROV headed down to ocean depth of over 4000 meters.
From left: Steven Powers, Ray Salo, and Glenn Schulten place buoys on the ROV cable to keep it above the ROV when it is underwater.
Jill Friedman at the controls that maintain M/V Performer over the ROV. The monitor to her left shows the back deck. The monitor above her is a picture of what the camera is filming on the ROV. The control panel in front of her shows the ship's location compared to the ROV's location. When the ROV was first deployed, the ship had to move with the current so it would not pull on the ROV. Once the ROV was down to depth, the ship and the ROV could be moved into position, where the scientists want to start their investigations.
Bill Innes on the bridge. Bill's wedding anniversary is today and he talked about his wife and children! Happy anniversary, Mrs. Innes!
David Mearns, organizer of the expedition, and Kate Collins enjoying a stunning sunset from the helipad of the M/V Performer.