Journals 2005/2006
Denis Costello
North High School, Torrance, California
"The Ecology and Oceanography of Harmful Algal Blooms"
R/V Atlantis
July 6 - 26
Journal Index:
July 6 - 7 - 8 - 9 - 10 - 11 - 12 - 13
14 - 15 - 16 - 17 - 18 - 19 - 20
21 - 22 - 23 - 24 - 25 - 26 - 27
July 7, 2005
We Set Sail
After the commotion that came with setting up a lab, we left Seattle at about 9 am. We proceeded through Lake Union toward the opening of Puget Sound. On our way to Ballard Lock, we passed a hard hat diving school, many commercial fishing boats and passed under two drawbridges. Passing through Ballard Lock is necessary because Lake Washington is a man-made water reservoir, and the water level is considerably higher. After the vessel entered the lock, the ship was secured by lines to the cleats alongside the lock and water was pumped from Lake Washington into the mouth of Puget Sound. Within minutes, our ship had dropped about 15 feet to match the water level in Puget Sound. While we waited, we had a large number of pedestrians gathered alongside the locks to watch us pass. Many were friendly and waved at us.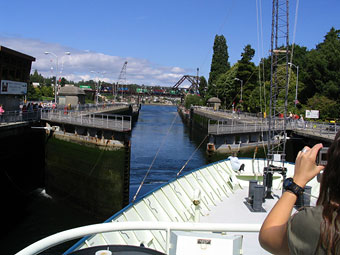 Passing though the Ballard Lock, on our way toward Puget Sound.
We continued on to the Strait of Juan de Fuca, with Washington to our south and Vancouver Island to our north. The scenery was breath-taking as we were surrounded by islands accompanied by tall pine trees. The Atlantis continued through the Strait until it reached a mooring labeled EH1. I spent about two hours finishing some last minute carpentry work to secure our instrumentation and having my filtrations racks ready and setting up my test tubes for chlorophyll samples. Since we were heading out to the open ocean, it was necessary to secure our equipment against damage due to the rolling swell.
We performed our first cast at station EH1, at about 11 pm. By the time the CTD was back on deck, most people had gone off to bed, with a few starting their night watch. I would have been one of those sleeping, but since this was a benchmark sampling station, I sampled water from 10, 5 and 0 meters and filtered them. I finished up my work, took a shower, wrote in my journal and then hit the rack. I hope to get some sleep, but the weather report indicated that the winds were picking up which should result in some large swell.