Journals 2005/2006
Denis Costello
North High School, Torrance, California
"The Ecology and Oceanography of Harmful Algal Blooms"
R/V Atlantis
July 6 - 26
Journal Index:
July 6 - 7 - 8 - 9 - 10 - 11 - 12 - 13
14 - 15 - 16 - 17 - 18 - 19 - 20
21 - 22 - 23 - 24 - 25 - 26 - 27
July 11, 2005
Hunt for PN
The seas were not as rough as I expected, but the skies were gray and dreary. We spent most of the early morning looking for our drifter. Even though it was attached to bright orange markers, the dense fog made it difficult to spot. I was asked to help on the bridge in trying to spot the drifter. It was finally identified by AB Patrick Hennessey, one of the ship's crewmen. In his opinion, he thought that it was over a mile away from where it should have been. Nonetheless, we picked it up and headed to our next sampling station.
It was cold and drizzling as we worked along the LB survey line. So far our search for Pseudo-nitzschia has not turned up any significant amounts of the diatoms. I wondered what this would mean for the rest of the cruise if we did not find the amounts that we had hoped. If indeed this was the case, then perhaps that the lack of Pseudo-nitzschia is the result of local current patterns. As of right now, we are heading to other stations off the coast of Vancouver Island to sample water from there.
Overall, it was a slow day. We only had four CTD casts as we were searching for significant amounts of Pseudo-nitzschia. I took advantage of the time off, by taking photos of the scientists and working on my journal.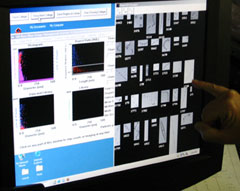 The FlowCAM screen shows the various types of phytoplankton in samples taken from the CTD. This operation was performed by the Lessard group (Dr. Lessard, Mike, Brady and Stacey). It is a quick method of checking what is in the water column. The FlowCAM allows scientists to see the larger phytoplankton found in the water column. As the sample is injected into the instrument, a picture of each phytoplankter is identified on the computer screen.
Just about an hour after lunch, the bridge announced that there were some humpback whales on the port side of the Atlantis. I quickly raced up to the 3rd deck and tried to take some pictures. Dr. Cochlan, Dr. Trick, Julia and Stacy met me up on the deck as we tried to find them. We then saw spouts of water and their backs break the water's surface.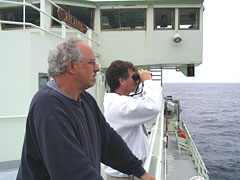 Dr. Charles Trick (at left) and Dr. William Cochlan, tracking a pod of humpback whales. This was one of many sightings.
Later, during one of the CTD, we spotted a sea lion on the starboard side of the ship. It was swimming along side the ship, just checking us out. With the usual traffic in this area, I'm sure that this sea lion was comfortable with our presence, maybe looking for a handout.