Journals 2005/2006
Denis Costello
North High School, Torrance, California
"The Ecology and Oceanography of Harmful Algal Blooms"
R/V Atlantis
July 6 - 26
Journal Index:
July 6 - 7 - 8 - 9 - 10 - 11 - 12 - 13
14 - 15 - 16 - 17 - 18 - 19 - 20
21 - 22 - 23 - 24 - 25 - 26 - 27
July 22, 2005
Nearing the End of the Grid
Another beautiful sunny day, we were sampling along the LB (La Perouse B) and LBC (La Perouse BC) lines. By the end of today, we will have conducted 180 CTD casts.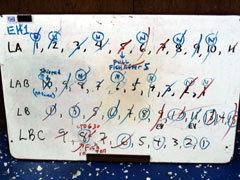 A list of the stations that we are to sample from.
This was an extremely busy day for all of us because of the amount of CTDs and incubation experiments to be broken down. When I was not filtering or sampling, I assisted Sean and Caroline with their experiments.
I also read chlorophylls on the fluorometer from 6 am to 4 pm. The acetone fumes were starting to get to me by the end of the day. Coupled with the rocking of the ship, the fumes left me feeling nauseous, if not a little seasick.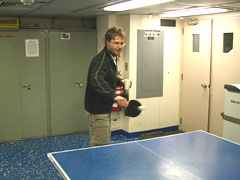 Sean Doran manages to play ping-pong and drink coffee before the next station.
At the end of the day, I spent some time talking with people from the various groups, trying to learn more about what they were doing. Ben Beall (UWO) spends most of his time using the Flow Cytometer. This bulky instrument is used to group cells by size. Coupled with the FlowCAM used by Dr. Lessard and her group, the Flow Cytometer quantifies by size, the cells found in each sample. It is capable of picking up bacterial cells that would normally pass thought the filtration process.
As a group, we ended the day with a movie in the lounge.