Journals 2006/2007
Peggy Deichstetter
St. Edward High School, Elgin, IL
July 20, 2006
Just weighting
First off this morning is a safety meeting. This time Ken explains to the BP official what safety procedures and precautions we will be using during our research.
In the lab, the first thing I did was to make data tables for all the data we will be collecting this week-end. Next I pre-weighted 60 filters that will be used to filter water samples. Finally, I sorted and packaged 65 water-sampling bottles.
Things are not going well because four of the seven boxes of equipment have not arrived yet. Ken is busy tracking them down.
Brenda, Katrin and Susan have no samples to look at yet. Everyone is very frustrated.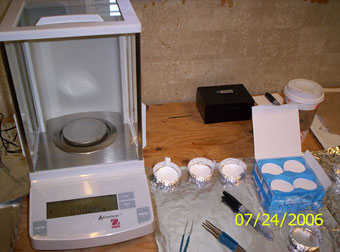 Weighing filters