Journals 2005/2006
Julie Long
Farnsworth Middle School, Guilderland, NY
"Late-summer Ecosystems Monitoring Survey"
R/V Albatross IV
August 12-25, 2005
Journal Index:
August 12 - 13 - 14 - 15 - 16 - 17 - 18
19 - 20 - 21 - 22 - 23 - 24 - 25
August 23, 2005
Whales!
3:30 A.M. - Two stations so far tonight; the first was just when we came on watch at midnight and it was a full station (water, bongo, grab). Don started the station and Nora and I finished it. I was pleasantly surprised to see that Don recorded my name as a scientist on the paperwork for the station. It felt good to be called a scientist again. Our second station was much less busy (thankfully) and was just a bongo (I ran the CTD).
Before leaving watch, Jerry told me that there was a report of a pod of 70 right whales in the Bay of Fundy. We are only going to the mouth of the Bay but I'm hoping to still see them. I'm also hoping that it's daytime when we get to that station.
7:30 P.M. (same day)- We are just about to our station in the Bay of Fundy. I stayed up late tonight because there are a lot of whales around. Joan and I were up on the bridge with the crew and for awhile, no matter what direction I looked in, there was a blow. In an hour and a half I counted 10 different animals. I think they are mostly Fin Whales. I'm excited to finally see them. I wish our boat was quieter so we could get closer. Still, seeing them is wonderful.
Earlier today Joan and I did a baby bongo tow for plankton samples for school. The baby bongos are just small versions of the big bongo net. They get attached to the same line as the regular bongo nets and are towed at a shallower depth then the regular bongo nets. We are going to do 2 more so that we have 3 different sample areas to take back with us.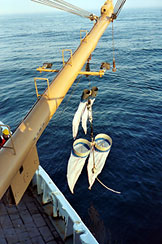 The baby bongos attached above the regular bongo nets.
Joan and I spent quite a bit of time on the bridge today. It's actually a very peaceful place to be despite all the work that goes on there. We talked to the Captain, the Navigator and the Executive Officer. We found out about weather and about the equipment they use for navigation. We also learned about their lives and what brought them to the Albatross. It was really interesting. While we were up there, besides seeing a large number of whales, we saw the speed ferry that goes between Bar Harbor, Maine and Nova Scotia. It was doing 42 knots! That's really fast, especially compared to our 10 knots.