Journals 2005/2006
Julie Long
Farnsworth Middle School, Guilderland, NY
"Late-summer Ecosystems Monitoring Survey"
R/V Albatross IV
August 12-25, 2005
Journal Index:
August 12 - 13 - 14 - 15 - 16 - 17 - 18
19 - 20 - 21 - 22 - 23 - 24 - 25
August 15, 2005
NYC Harbor
We only had one station this morning- New York City Harbor. I was again struck by the variety of the plankton we are collecting. The bongo nets stunk and were dingy when they came up after the tow (doesn't say much for NYC waters) and there were red zooplankton. I hadn't seen the red before. At breakfast I asked Jerry why they were red and he told me that some copepods are red because they store oil in there bodies and that gives them a reddish color- sometimes pink, sometimes fire engine red. These particular ones are supposed to be a favorite of Right Whales. Plankton are turning out to be much more interesting than I originally thought.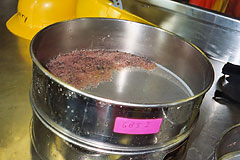 This is an example of plankton rinsed from the bongo nets into a sieve. From here the plankton gets "pickled" in jars so they can be studied when we get back to land.
Our NYC station was over at 3:00A.M. but we still were on watch until 5:30A.M. Nora and I went up to the scientist/officer lounge where there is a TV and a huge assortment of movies from the NAVY. I guess we fell asleep because I woke up to Jerry and Don laughing at us. Jerry was holding a camera saying he had good ammunition for later in the cruise. I have a feeling Nora and I won't live this down...
This afternoon when I was back on watch we had a visitor in the wet lab. Our fume hood hadn't been working so the crew had been working on it the last couple of days. Today a bat came out and attached itself to the wet lab ceiling. Everyone was a bit squeamish about it, though we did all take pictures. Jerry finally captured it in a paper cup and said he was going to find a box for it (???). I hate bats so I haven't asked too many questions about it since. At least the hood works again!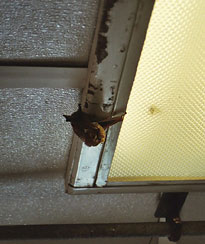 Our little visitor from the hood.
Don, Nora, Jackie (another NOAA scientist), Joe and I have gotten into a number of conversations about the education system and the current NCLB (No Child Left Behind) legislation. I'm very humbled by the honest respect and esteem that they have for me and teachers in general. In my eyes, they have the challenging job; in their eyes I do. It's rare to feel motivated and empowered as a teacher when you aren't around kids or other teachers. This amazing group of people makes me feel that way.