Journals 2005/2006
Michelle Brand-Buchanan
Alexandria Magnet Middle School, Alexandria, LA
"Antarctic Drilling (ANDRILL) Site Survey"
October 16 - November 29
Journal Index:
October 17 - 23 - 29
November 2 - 10 - 21 - 22 - 29


October 23, 2005
On Your Mark; Get Set...
We're not going, yet, but we are at the starting line awaiting the sound of the gun. We loaded up the Hagglund and Piston Bulley with most of our equipment and drove them down to the sea ice. There we unloaded the vehicles and loaded the cargo onto sleds that will be pulled by the vehicles tomorrow. Our sleeping duffles are about 3 feet long, 2 feet tall, and 2 feet wide. The inside is filled with 1 sleeping bag, 1 mat, 1 cot, 1 air mat, 1 stadium seat, and 1 camp pillow. The cot sits about 4 inches off the ground - but it IS off the ice! YAY! Our cooking gear goes beyond my knowledge of cooking. We have 2 pressure cookers, a plethora of spices and sauces, and canned goods galore! Two of the larger stock pots are used for melting snow into water. Because the snow here is only 8% water (12% in the US) you have to put some water in the bottom of the pot first then add snow. Otherwise you risk burning your pot, and I've had that happen - the stench is horrible and cleaning the pot is worse!
A storm was blowing up this evening during dinner. Our trip may be put off, but we will know in the morning. Looking out the window where I sat I could see a red and white building about 15 yards away; I looked down to cut my ham, looked back out the window and the building was gone in a cloud of snow! However, I could see a person walking up towards the stairs; that is known as a category 2. No one is allowed out of the buildings in a category 1. Another bad weather phenomenon is a "white-out." It has been describe that you cannot see your hand in front of your face when your arm is fully extended. The best thing to do in a white-out is to crouch down and stay put! You will not know if you walk in to danger.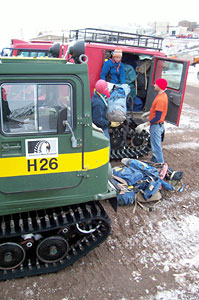 Getting ready; packing up the Piston Bully.