Journals 2005/2006
Michelle Brand-Buchanan
Alexandria Magnet Middle School, Alexandria, LA
"Antarctic Drilling (ANDRILL) Site Survey"
October 16 - November 29
Journal Index:
October 17 - 23 - 29
November 2 - 10 - 21 - 22 - 29


November 21, 2005
All Good Things Must Come To An End
Today we started taking down camp. Camp was busy with a plethora of activity. The tie-downs for the tents were dug out of the snow drifts so that they are visible to untie on Wednesday morning. All bags are packed and stuffed inside the Piston Bully. Recyclables, burnables, and human waste is packed on a sled. Tools, food, and computers are waiting for the last call. Wednesday, we will be off, heading towards Mac-Town (McMurdo). There we will check everything in from the kitchen equipment to backpacks, to tents, and to vehicles, which will take several days - we have A LOT of equipment.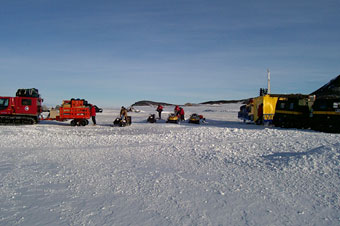 The Antarctic Hillbillies go to town.
Tomorrow starts a new adventure. I will be backpacking in the Trans-Antarctic mountains. Now, this mountain chain is huge. No, I will not be hiking for days, but only four about 5 hours. I do not know my exact destination, yet, but rest-assured I will have plenty of details to report here back in Mac-Town.