Journals 2004/2005
Charlene Mauro
Navarre High School, Navarre Florida
"Tracking Juvenile Bull Sharks in
the Indian River Lagoon"
Indian River Lagoon, Florida
June 28 - July 9, 2004
Journal Index:
June 28 - 29 - 30

July 1 - 2 - 6 - 7 - 8 - 9
July 9, 2004
Although a bit disappointed we did not catch a juvenile bull shark to track, I was anxious to enjoy my last day in the field.
Today we visited all the VR2 sites to check the acoustic monitors to see if any sharks have passed the sites.
The VR2 is a submersible, single channel receiver. The receiver system provides a flexible and reliable means of recording fish telemetry data where real time data collection is impractical.
Lots of cleaning! Major barnacle build-up!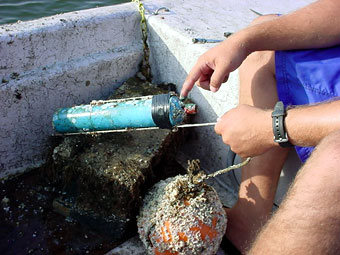 Later in the day, we decided to visit Banana River near NASA. The water was crystal clear, manatees were abundant (yes, abundant) and we followed a school of incredibly large redfish. A fisherman's dream! This was by far the most amazing spot we have been to. After about thirty minutes, I noticed a NASA helicopter come off the launch pad in our direction. It got closer and closer and I got really SCARED. Well, it almost landed next to us and the people inside started taking all these pictures...they told us to GET OUT! YIKES!
Well, it turns out we were in a restricted area...oops! Tobey made a few phone calls and everything was ok. The picture below is the of us taken by NASA.
What an ending to a great research experience!
Return to Journals Index