Journals 2004/2005
Charlene Mauro
Navarre High School, Navarre Florida
"Tracking Juvenile Bull Sharks in
the Indian River Lagoon"
Indian River Lagoon, Florida
June 28 - July 9, 2004
Journal Index:
June 28 - 29 - 30

July 1 - 2 - 6 - 7 - 8 - 9
July 1, 2004
Tobey and I left the lab at 6am and headed to the Merrit Island National Wildlife Refuge (about 3 hours away). We picked up the skiff and loaded it with all the gear. I used to live about an hour from this area and forgot how beautiful it is. It is absolutely pristine. Manatees, alligators, redfish, and hopefully some bull sharks! I must admit I have never had an interest in birds but seeing the variety around here could make anyone an enthusiast!
I have one thing to say ... research requires a ton of patience! Pictures? Not easy when there is only two of you. So where were we? 28 40.869 LAT 80 48.452 LONG to be exact. A seagrass bed with a ledge. Before setting the line, I watched as burrfish, dolphin, mullet, catfish, and several types of smaller fish swam by. Environmental measurements are taken at each sampling location (date, time, latitude and longitude, water depth, cloud cover, wave height, wind velocity and direction, air temperature, surface water temperature, surface salinity, dissolved oxygen, and water turbidity) First, I took the dissolved oxygen (5.6) salinity (25.8) and water temperature (31.8°C) using the YSI. We set the 1000 ft long line and hooked up 40 gangions to the main line. Frozen shark pups were thawed and used for bait. There was not a breeze that would have made putting the hooks out easier. The entire process of letting the line out took 15 minutes. The soak time was 45 minutes.
What a challenge pulling up the line was! Ugh! It took me what seemed forever to remove each gangion with bait. We caught blue crabs.... Oh well..
After two more long line attempts and five hours later, we called it a day. We did catch a few gaftopsail catfish...but no bull sharks!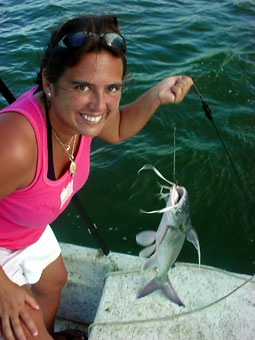 We are staying at a biological field station with two other graduate students.
Return to Journals Index