Journals 2003/2004
Lynn Masellis
McGinnis Middle School, Perth Amboy, NJ
"Late summer ecosystem monitoring survey"
R/V Argo Maine, Gulf of Maine
August 19 - 30, 2003
DAY 5: Saturday, August 23, 2003
Wake up call cancelled- "we are jogging along for the morning," Whatever you say just as long as I get to sleep a little longer-no problem! The boat was rocking so high. I knew the safest place for me was in bed. I heard water splashing and something break. Then there was a gushing of water and it sounded so close. I figured something in the lab upstairs had fallen, and whoever was up on deck would take care of it.
Well four hours later-I noticed. The noises I heard were occurring in my room. It was so dark that I couldn't tell. An opened pipe in my room had deposited rust and dirt into my room along with water. It was on my clothes, shoes, and just missed me in the bed. The hatch above my bunk was dripping water. I was feeling a little misty during the night and now I knew why. Fortunately, my clean clothes were packed away in my bag and the dirty clothes were the ones that got all wet. I got up sorted a few things and went up to the lab to check out what's going on. I saw no one in the lab and I was quite concerned, I ran into the galley-figuring someone will be there, that s where the food is there wasn't a soul. Now I started to panic, "Oh my God, what if they abandon the ship and forgot me!" Now I started to think, where is my life jacket -Oh yeah, its in my closet which is stuck! What do I do, where should I go?
Realizing that I might be the only one on this ship I climbed up to the bridge where the captain was. I looked in his bunk and he was laying face down in his bunk. I could have sworn someone had shot him. He was sleeping, but his looked like he was long gone. I turned to look and see if anyone was steering the ship and there was Dave. I touched him to make sure he was alive. He turned to look at me as if I was crazy. He said what is going on? He replied, "everyone is sleeping, why aren't you?" Ahh, a sigh of relief came about me. I was a bit wet when I woke up. I explained what I found in my room when I woke up and he put the boat on autopilot, and immediately fixed the problem. When I got back to the lab I saw Jerry in the directors chair sleeping. The other scientists (John and Robin) were sleeping in their bunks. I freaked out because I let my mind wonder. Whoo, I'm glad everything was okay. Now it's time to have a few cookies. I think I had a "Titanic moment."
Later, I found something quiet to do-it was watching an 8 pack of dolphins race the boat .I thought they had to be trained at Sea World to know how to do this stuff. It was so amazing to watch them frolic and jump the bow waves. I went to view them up close. I was up in my favorite spot in the upper left corner of the bridge. As I was watching the dolphins, I looked around to observe more wildlife out among the waves. I caught the gulls running upon the waters. They sit and float and then when they want to move out they start flapping their wings and begin walking on the water. It looks so funny. They don't soar for too long and they get up and do it again. I guess it is a way of life for them, especially when they have to find food.
Well off for a nap in my bunk, the seasickness medicine makes you tired. I don't mind a nap because it helps to pass the time and it keeps me away from the cookie jar! It's funny the weather had totally turned around. In the early morning we had some low pressure and waves of about 3-5 feet and no visible sun. We circled one station for about four to five hours. We basically skipped our shift due to terrible weather. Now, it's a sunny day with calm seas and it's like a new day. Robyn and John will have to complete the next few stations until Jerry and I begin our shift at dinnertime.
In the later afternoon, John Sebunka woke me to see a whale. Unfortunately, it was dead. We got close enough to see it and it was only a portion of the whale. It was belly up and had probably eaten by sharks. It smelled pretty bad. John recorded its location and informed me that this seemed to be an ongoing investigation. Another group of scientists are studying the high death rate of whales in the Atlantic. The studies are showing that there is a possibility of toxins in the plankton the whales are digesting. It's poisoning them and killing the large baleen whales.
I'd better rest up for tonight. The other scientists have been conquering about four stations on their shift. We will be doing the same tonight. The distance between each station is about one hour. That doesn't leave a lot of time in between to get organized so I'd better get myself in gear.
Six o'clock can come fast, and station after station, Jerry and I conquered them together. We seem to enjoy each other's company. We talk a lot about our family, work and life in general. It has made time fly and we laugh a lot. Jerry is quite patient with me and understands that I am still learning. He had informed me that I am depended upon like a regular scientist. If there were not four active scientists the study could not take place at that scheduled date. And another cruise would have taken our place. I guess he was letting me know that I was an important part of the crew.
Our last station for the night was at 11:45 p.m. and our relief team was not awake. Jerry and I completed the testing site at about 12:30 a.m. Boy, did I hit the sack. It was a full schedule that night and I was tired of thinking. I was glad to see my bunk waiting for me.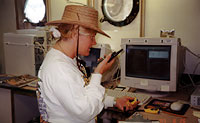 As the night continued there was a storm developing. The winds increased and the waves were as high as eight to ten feet. We were traveling approximately one knot when the winds were at about 45 knots. This storm came fast and furious. The captain told me that is was rated just below a hurricane. I was fortunate enough to be in bed this shift and I held on for my life and tried to go with the roll of the boat. I prayed a lot and understood that if this was my time then please, make it quick! The boat was bouncing in all different directions. It was what they call "rolling." I remembered that term from a female scientist that remarked about this 80-foot boat we were taking out to sea. She remembered her past experience with this "little love boat." Now I know why she didn't want to come with us when we were short one scientist.