Journals 2003/2004
Christine Kirch
West Warwick High School, West Warwick, Rhode Island
"Role of Zooplankton Grazers in Harmful Algal Bloom Dynamics"
R/V Endeavor, Bay of Fundy
August 11 - 18, 2003
DAY 7: Sunday August 17th, 2003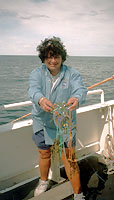 I have failed to mention the amount of plastic that we saw floating on algal masses in the Bay of Fundy. There was an incredible amount of garbage. I even fished out a bouquet of deflated balloons to use in my classroom. People can be such pigs!
Spent the day at the basin after arriving this am. Processed a few of Greg and Bob's test samples but other that that I didn't have much to do all day. I helped with the MOCNESS and CTD when warranted. Finally left the station at 4:30 pm to head to the canal. We saw Humpback whales off of Race Point, Provincetown but they were quite far off. Good viewing with binoculars.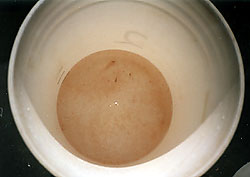 Got some pictures of the contents of the MOCNESS tows. They did jars by depth. The similarity of the two tows is quite amazing. Ted and Maria worked the MOCNESS. It took me awhile to win him over. I guess I had to prove myself, i.e. that I wasn't some primadonna just taking up space. He even offered to have my kids come down to his lab. I have a feeling this is big.