Journals 2003/2004
Christine Kirch
West Warwick High School, West Warwick, Rhode Island
"Role of Zooplankton Grazers in Harmful Algal Bloom Dynamics"
R/V Endeavor, Bay of Fundy
August 11 - 18, 2003
DAY 6: Saturday August 16th, 2003
It is early but I'm not too sure as to what to do with myself at the moment. I would rather be busy. Several people are on the aft deck but I got wet standing next to the railing which didn't amuse me at all.
I woke at 7:30 am and got up expecting to see whales. But at some point during the night the ship had moved back to the Alex. station After a few tests we did go back to the whale station but it was too choppy, foggy, and cloudy to spot them.
I worked in the chlorophyll lab most of the day. Originally we weren't to leave the Bay of Fundy until 11:00 tonight. However, we have a cautious captain that was leery of the forecast for the Bay of Fundy and the Gulf of Maine. We were on our way by 3:00 pm.
To entertain the chlorophyll lab people I started a poll. People had to guess a time that we would have a "Quintao" sighting-the "missing" grad student. Several people made guesses and comments throughout the day. Colleen was the eventual winner with a time of 5:00 pm. He got up to eat and wasn't seen again. At least it was a diversion as time is starting to drag.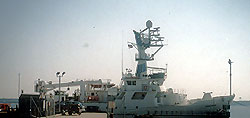 We had another great supper tonight. We are now steaming to a deep hole, called Wilkerson Basin, to the North of mid-cape. I can go shopping tomorrow at noon to purchase my official Endeavor t-shirt. I certainly have saved money this week.