Journals 2003/2004
Christine Kirch
West Warwick High School, West Warwick, Rhode Island
"Role of Zooplankton Grazers in Harmful Algal Bloom Dynamics"
R/V Endeavor, Bay of Fundy
August 11 - 18, 2003
DAY 3: Wednesday August 13th, 2003
Yesterday was a blur-Tuesday the 12th. I slept on and off until 8am and then I went to breakfast. Why can't I have a Chef in my kitchen like this? The food is excellent.
We were finally on station at 2 ish. Colleen and I worked with Nancy this afternoon to learn the lab procedures to collect the biomass of the potential toxic dinoflagellates. Colleen went to bed at 6 pm as she was scheduled for a later shift. Nancy was helping me figure out what to do in her lab. Suddenly the fire alarm sounded and it wasn't a drill as the crew flew around the ship. We followed protocol, which involved running down to our cabin and grabbing our life jacket and a hat. Fortunately it was not an emergency as someone using foot powder set off the alarm because of the particulate in it. Colleen went back to bed. ( I was supposed to wake her at midnight but I didn't have the heart after she was rudely awoken.) After the fire alarm Nancy came up looking rather peaked and announced she had been sick and wasn't feeling well. So I had to jump right in to the lab situation. I have done water testing in the past but that was over 10 years ago. (Colleen worked in a lab before grad school.)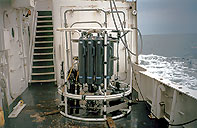 Nancy came back on deck at 2 pm. Meanwhile because of a short handed crew I was helping launch the CTD and collect water samples off the stern of the ship. Plus, doing the lab thing. At 2:45 am I had had enough. We were only going to be on one more station before 4 am and the crew was sufficient, so I went to bed. Someone got Colleen up at 4 am. I slept until 10 am-ish, which was the only breakfast I missed, and felt quite refreshed.
Overnight they found one station with some Alexandrium but still not the plethora they were expecting. We are headed further North in the bay where they predict more to be found. Eight more stations to go to locate the phytoplankton. If not the discussion will enter the "What do we do now phase" as you cannot waste the time and money of a research cruise. I probably will go back to work at 8 pm on shift to help finish the stations.
Finally calm in the bay, but very foggy. People tend to hover inside, not me; I need the fresh air.
Talked to Bob about obtaining copepods for my plankton lab in February. Because the bay isn't conducive to lots of plankton at that time I usually order fresh water specimens from a science supply house. However, the acquisition of copepods would enhance the lab.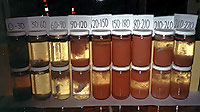 Mid-afternoon we headed back to a prior station where Alexandrium was found. WE launched the CTD with a pump attached to collect water for other experiments but the pump failed. Then the "MOCNESS"-a multi-net devise designed to collect plankton samples from various depths developed a software glitch. So instead of working over night we are done. No more all nighters or shifts unless time constraints become apparent.
No sea creatures today other than the fins from basking sharks and someone said they saw a puffin floating on the water. The weather broke a few times but otherwise we were shrouded in fog...it's as if you are alone on the sea. Seems to be spitting rain just as it did last night. Yucky weather!