Journals 2008/2009
Zamaria Rocio
Horace Mann Middle School, San Diego, CA
"Marine Biodiversity of the Great Barrier Reef
(Heron Island Research Station)"
August 25 - September 14, 2008
Journal Index:
August 24 - 25 - 26 - 27 - 28 - 29 - 30 - 31
September 1 - 2 - 3 - 4 - 5 - 6 - 7 - 8 - 10
11 - 12 - 13


August 31, 2008
Diving and Retrieving
After working up another coral head this morning and collecting all the specimens, I was asked to go out in one of two dive boats we are using on the island today. We will be going to the eastern end of Heron Island's coral cay.
I was looking forward to this because this was my first time off the island since getting here. It took over 30 minutes to get to the dive location and put down the anchor. While the divers were putting on their gear, I was informed I would help by being their lookout. I was told to watch where their bubbles were coming up to the surface, that's how I could follow where they were. The divers were ready, and off the side of the boat they went. They were diving in 30 feet of water, and I had difficulty seeing them through the water so I had to follow their bubbles. After close to an hour of being down there, the divers surfaced. They did indeed have a coral head. This was a lot of work to just get one. But I was still very excited. They placed it in a large sturdy plastic bag with water from the ocean. As soon as we returned, it was brought to the outside aquarium. I do not have time tonight to work on it so I will it first thing tomorrow morning.
I did have time before dinner to take a short walk and take some pictures. I am amazed that at low tide you can see coral sticking out of the water. These diverse corals have many shapes and colors. All of them were very beautiful.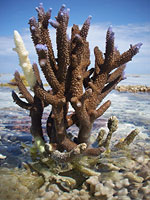 If people only knew how gorgeous this is, I think they would want to do everything they could to preserve it. It is great the CReef group is making people aware and collecting some valuable data.