Journals 2005/2006
James J. Dornicik
Ward Melville High School, East Setauket, New York
"Investigating Vertical Mixing at Eddy A4"
R/V Oceanus
July 14 - August 5, 2005
Journal Index:
July 14 - 15 - 16 - 17 - 18 - 19 - 20
21 - 22 - 23 - 24 - 25 - 26 - 27
28 - 29 - 30 - 31
August 1 - 2 - 3 - 4 - 5
August 2, 2005
Pickup of Rutgers glider, retrieval of the sea horse, prepped the sled deployed two Em-Apex floats
Today was a busy day that had a lack luster finish. During the day we readied the sled for deployment and then picked up the sea horse.
After dinner we deployed two EM-Apex floats, and picked up glider that was deployed 4 weeks earlier by Rutgers University.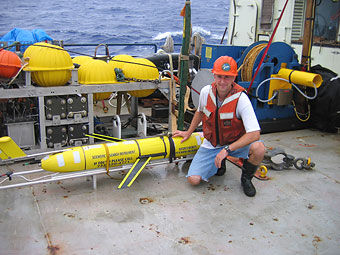 Unfortunately the weather picked up so much that deploying the sled was too much of a hazard that the last tow was canceled and we started to head back to Bermuda.