Journals 2005/2006
James J. Dornicik
Ward Melville High School, East Setauket, New York
"Investigating Vertical Mixing at Eddy A4"
R/V Oceanus
July 14 - August 5, 2005
Journal Index:
July 14 - 15 - 16 - 17 - 18 - 19 - 20
21 - 22 - 23 - 24 - 25 - 26 - 27
28 - 29 - 30 - 31
August 1 - 2 - 3 - 4 - 5
July 19, 2005
Multiple launches of the CTD, Conductivity, Temperature and Depth
This unit consists of 24 bottles that are lowered into the water and are triggered to close at specific depths to get water samples. It also tests the conductivity of the water from which the salinity and be determined. Temperature and depth can also be determined at various locations too.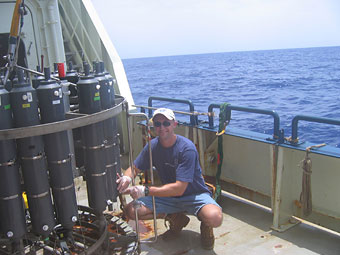 Today we will launch 14 CTD tests and freeze water samples from each bottle to determine the nutrient load at each level. See picture of me taking samples from the apparatus.

Tests will be done one per hour until we have completed an X pattern through the eddy. We will do seven on each side of the X for a total of fourteen.