Journals 2004/2005
Leesa Wingo
South Anchorage High School, Anchorage Alaska
"Physical-biological coupling at frontal
zones in Glacier Bay National Park"
Vessel Sigma T
July 12-30, 2004
Journal Index:
July 12 - 13 - 14 - 15 - 16 - 17 - 18

19 - 20 - 21 - 22 - 23 - 24/25

26 - 27 - 28 - 29 - 30
July 28, 2004
Office day
I copied photos from a couple of the biologists to use in my classroom before going over to the office.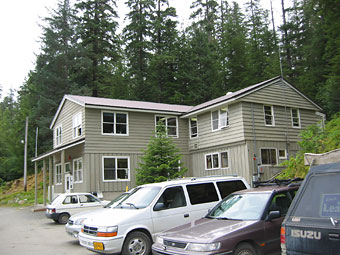 Once at the office, Lisa had read a couple of papers last night that stated vertical plankton tows weren't successful with meroplankton (crab larvae) because they can swim right out of a vertical net haul. This is not good news for our past few days of work. We need to switch to horizontal plankton towing off the center of the back of the boat, somehow without getting the tow line stuck in the propeller and still be able to send the messenger weight down to open and close the net.
(I can't say how much I admire Lisa for the constant problem solving she has to do. In running a project, it requires so many different facets and details that need adjustments and changes. Her patience and perseverance is inspiring.)
I worked on curriculum in the morning and talked with the interpretive ranger, Mary Lou, and the resident Native Tlingit cruise ship expert, Carolyn, in the afternoon. Their suggestions were to study the whales and acoustical information that has been studied in Glacier Bay.
One of the activities I came up with was to predict what the basins of the East and West Arm of Glacier bay would look like after hearing about the glacial movement history. East arm: the glacier moved slowly only once forward, waited a long time, and retreated quickly. West arm: the glacier moved forwards and backwards several times quickly.
Using 2 ice cubes with sand and a couple of pebbles melted into the bottom, a pan with clay pressed into the bottom, and a hairdryer, simulate the formation of the East and West arms of Glacier bay. Be sure to not let your "glacier" melt completely.
Return to Journals Index