Journals 2003/2004
Sarah Quan
Narragansett High School, Narragansett, RI
"Study of the exchange of waters between the Northeast Atlantic and the Norwegian Sea"
R/V Johan Hjort, Nordic Seas
July 10 - 30, 2003 m
July 15, 2003
Latitude: 68º 37.534' N
Longitude: 2º 0.963' E
Air Temperature: 10.1ºC
Water Temperature: 9.9ºC
Sometime while we were sleeping this morning we crossed the Arctic Circle! That's cool! This morning for breakfast we were served two traditional Norwegian specialties, blue pudding (which is a bluish sausage made from pigs blood) and fishcakes. I opted out of the dining adventure and went for the muesli cereal instead. Today we deployed two more Argo floats and one mooring. Tonight we did some team bonding and watched Michael Douglas and Toni Curtis in the movie Vikings. It was the perfect video for this cruise.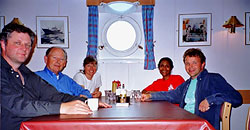 The Vikings are one of the most familiar symbols of Norwegian history. Nordic shipbuilders designed and built sea-going ships with a large square sail and up to 16 pairs of oars. These ships could reach speeds up to 12 knots. Many a Norwegian farmer, frustrated with overpopulation and lack of land, escaped the western shores of Norway on these ships seeking a better life. They tackled uncharted waters settling in such places as the Faroe Islands, Iceland, and Greenland. They visited North America long before Columbus. The Viking age began in the late 8th century and continued until the 11th century. Vikings are famous for their pillaging, plundering, and warfare. The spirit of the Vikings that accompanies me on this trip however is their sense of adventure and seamanship.
The following is a saying of the Vikings that I think is a good introduction to my adventure. It was composed around AD 700-900. It is written in Havamal, a metered poetry where in each line there is alliteration (a consonant of a stressed syllable is echoed). In this poem the 'c' in 'cautious' and then again in 'comes', then the 'sp' in 'speaks' and 'sparingly' and so on. You should be able to find the other two.
"Seeking Knowledge"

The cautious guest
Who comes to the table
Speaks sparingly
Listens with ears
Learns with eyes
Such is the seeker of knowledge