Journals 2007/2008
Heather Judkins
Seminole High School, Seminole, FL
November 3, 2007
Judkins Journey Begins: Destination- Manzanilla, Mexico
Today I started my journey to the Eastern Tropical Pacific! I left Tampa International Airport at 7:55 am with entirely too much luggage and away I went! I had a layover in Houston, TX and then arrived at my final destination of Manzanilla, Mexico around 1:30 pm.
Upon arrival to the R/V McArthur II, I found my cabin, unpacked, and started meeting various crew and scientists that I would be working with for the next 26 days. We went into downtown Manzanilla for some exploration and dinner.
My cabin is on the main deck and larger than I expected. There are four of us sharing the room and there is a connecting bathroom. I discovered the mess hall, the workout room, and the lounge. It even has a flat screen television!
I think that this trip will be such a great learning experience for me! There are so many different scientists and NOAA staff with various backgrounds that all come together to make the research project successful. I look forward to getting underway tomorrow at 10 am.
Marine Science related questions of the day:
Question 1: As I flew from Houston to Mexico, I looked out my window and saw the following feature. Which type of estuary is this? Coastal plain, bar-built, tectonic, or a fjord? Why?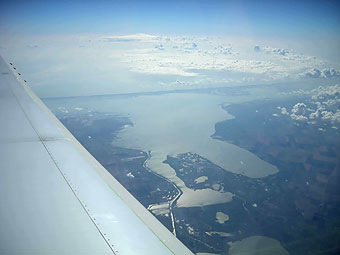 Question 2: What is the time difference between Florida and Manzanilla, Mexico? (Hint: not what you might expect, I was surprised!)