Journals 2005/2006
Maureen Barrett
Harrington Middle School, Mt. Laurel, NJ
"Collaborative Survey of Cetaceans and the Pelagic Ecosystem (CSCAPE)"
August 21 - September 9
Journal Index:
August 21 - 22 - 23 - 24 - 25 - 26 - 27 - 28
29 - 30 - 31/Sept 1

September 2 - 3 - 4 - 5 - 6 - 7 - 8

Q & A: Period 1 - 2 - 3 - 6 - 8
September 7, 2005
First Day of School
My 8th grade students started school today without me! However even though I was not with them, I was able to communicate with them thanks to my student teacher, Kate Dare. In August, I sent a letter to my students explaining that I was selected as an ARMADA teacher and that I would be at sea the first week of school. In the letter, I asked the students to do a few journal entries prior to the start of school. They had to use the ARMADA and CSCAPE websites for their journal writing, and one of the entries required the students to develop questions about the ARMADA program and CSCAPE study. When I found out that I could send and receive emails at sea, I asked my student teacher to email the students' questions to me. She was able to compile the questions and get them to me by the early afternoon.
I worked on my homework all day and night. I answered the questions that I could, and the questions that I could not answer, I consulted with the scientists. Fortunately, I have not missed much in terms of cetacean sightings because we have been off effort all day. We were at a steady Beaufort 6 and climbing! Tomorrow's forecast is calling for gale force winds. We will be holding onto our hats!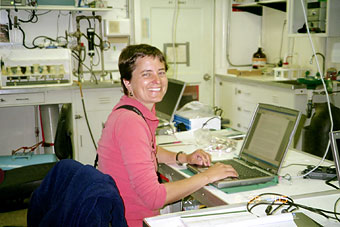 I decided to include the questions/answers in this journal entry. My students were not aware that my journals were posted daily until today, so sometimes I refer them to a particular day's entry for the answer to their question.
Many people made this communication possible. Jim Anthony, the ship's Chief Electronics Technician, is responsible for all the electronics on board, including sending/receiving emails. Susan Chivers, the Chief scientist on board, supported me throughout this trip and checked all my journals for scientific accuracy. Also all the scientists on board (Laura, Annie, Holly, Candy, Cornelia, Jim, Liz, Mari, Scott, Thomas, and Gary) and the crew members have been answering my questions for almost twenty days, and many of them helped with my students' questions. I am also very thankful to Kate Dare, my student teacher, and Lou Misselhorn, my substitute teacher, for doing the leg work in my classroom back at Harrington Middle School in Mt. Laurel, New Jersey. And a special thanks to Andrea Kecskes of the ARMADA Project and the web tech person at URI who have been posting all my journal entries on a daily basis.