Journals 2003/2004
Sandy Pratt
Woodstock Academy, Woodstock, CT
"Role of Zooplankton grazers in harmful algal bloom dynamics"
R/V Endeavor, Bay of Fundy
June 30 - July 8, 2003
July 6, 2003
I was a little worried about my journal and the samples still needing filtration when I woke up this morning. I guess I will go and face Allan now and explain about not finishing. Maybe I will get fired.
Sea Sickness! BAD!! I did wake up somewhat earlier today, but felt terrible. I managed a little breakfast. Greg said he wanted me to learn Maura's procedures since she had been up all night and needed some downtime.
I wanted to cry. I felt incapable of learning anything. I did a little work obtaining some net tow samples and processing Allan's protocols. I could not even look at the vacuum pump. He still does not know that the samples were not finished. My love affair with the special lab has terminated. The room is very small. With the bigger swells today, the enclosed space seems to magnify the rolling. I have to keep staring at the horizon out of one of the two small portholes. Thankfully, Caroline is able to handle much of the procedures on her own, now.
Lunchtime--I stood in line hoping that food would help. I took a bowl of lobster bisque soup and asked for a lobster roll which turned out to be huge. I brought them to the table and sat down with Angie and Ben. I could not even pick up the silver ware. I managed to give the lobster roll away. Ben got me a ginger ale, crackers and a Dramamine. I could not sit at the table one more minute with any composure, so I made a hasty retreat to my cabin. I finished the ginger ale and crackers and slept an hour or two. I felt horrible sleeping when Maura needs sleep more than I do.
When I got up, I did a little more work in the lab. I was moving much slower than usual. Allan came to find me and said "Madam, would you care to accompany me to the aft deck for a net tow". I replied with as much sincerity as I could muster through my seasick haze, that "I would be delighted", but I was very pleased he would seek my help. After processing those samples, we went out on deck to watch the catamaran ferry pass by on its trip from Bar Harbor to Nova Scotia. This was the first thing other than our ship that we had seen in days. The fog has been intense and Caroline is getting quite stir crazy seeing nothing but a white curtain.
It was now time for dinner--eggplant Parmesan, my favorite. I asked for the eggplant and rice and sat down in the dining area. I could not handle the rocking so I took my food out on deck. I managed some rice and one bite of the eggplant. Then I went to borrow another Dramamine from Ben. I knew the net tow samples were coming up as we were almost at the next station. One of the computers tracks our progress and counts down the time to each station. Knowing I could not handle bending over, I quickly returned to my cabin and slept some more. When I came back up to the lab, Caroline mentioned that I needed to get better because she was lost without me. We processed another net tow sample and finally finished the pump station filtrations. Allan was not overly concerned about the delay as long as we had refrigerated them.
It is now 12:27 am and we are finishing up another station. Today, I learned how to take water out of the Niskin bottles.
There has been a problem with some of the bottles tripping so there will be missing data from the depth profiles.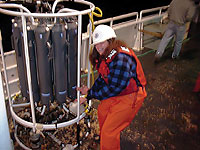 A MOCNESS tow is in progress which takes a long time. Maura has been working so hard these two days processing the Niskin bottle water and the pump station samples. She never complains and is so nice to everyone.
There is one more station to go tonight. If all goes well we will be done by 3 am. We will see if I am able to stay up. I am still eating oyster crackers and ginger ale, my diet for the day. But, I am actually beginning to feel human again.
The only really good thing about today is that I was able to see bioluminescence in the toilet (and I did not get fired). We had been looking for the luminescence around the ship at night, but there are too many bright lights on deck. The toilets are flushed with seawater and, yesterday, Ted had mentioned that if you kept the lights off when you flushed, you could see bioluminescence. I had tried it a couple of times yesterday with no luck. This morning when I got up, I did not turn on any lights at all so my eyes were dark accustomed and, lo and behold, all sorts of bluish fluorescence sparkled in the bowl.