Journals 2003/2004
Elizabeth Gibbs
Thompson Middle School, Newport, Rhode Island
"Impact of human activities on dusky dolphin behavior and population biology"
Field Station, Kaikora, New Zealand
July 13 - 25, 2003
Wednesday, July 16, 2003
The forecast was for 50-knot winds today, so we stayed off the water. Apparently it blew a lot, but we were pretty far away. Mika, Jeanie, Sangeetha, Erik, Tim and I hiked up Mount Fyffe (1600 meters, 5200 feet), almost to the summit. We followed a stream bed through prickly gorse, a European bush that has invaded New Zealand. Then we ascended past tea trees, black ferns, silver ferns (symbol of New Zealand and the national All Blacks rugby team), big matai trees, and much more. We passed lots of possum bones, too. The possum is the biggest environmental threat to New Zealand, eating many tons of vegetation per day throughout the country. The Department of Conservation puts out cyanide in the forest to kill them, so their carcasses frequently appear on trails. Many shops sell items-from hats to bikinis-made from their soft fur.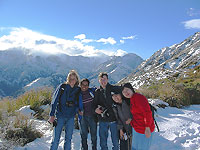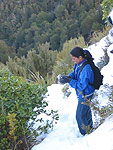 As we got closer to the top, we began to encounter snow-the first Sangeetha had ever seen! If we turned around, we had fabulous views of Kaikoura and the peninsula. We were sheltered from the strong winds and fortunately it remained clear until we were done hiking. The end of the trail was a bit of a scramble, covered in snow, but we made it to the hut, where we had a snack and admired the mountains to the northwest-high, snow-capped peaks-and the ocean views to the east.
It turned out to be Jeanie's birthday so we took her out to the Donegal House for dessert and drinks. As I write, it's blowing hard outside. If this keeps up, we'll head north to the more sheltered Marlborough Sounds.