Journals 2003/2004
Margaret Brumsted
Dartmouth High School, Dartmouth, Massachusetts
"North Cape Shellfish Restoration Project"
Point Judith, Rhode Island
July 21 - August 28, 2003
DAY 5: Monday August 18, 2003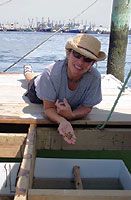 Since coming back from vacation I will have the opportunity to use up much of the remainder of my summer vacation here in Matunuck. Not a bad place to be! I hope to spend a lot of my time working with the quahogs in the upweller.
Just as we did two weeks prior to my vacation; it is once again time to sort the quahogs from the silos in the upweller into size classes. Their rate of growth has accelerated, perhaps due to the increase in water temperature and food availability. The total volume has increased tremendously since the last time they were sorted, and they seem to be on the verge of overwhelming the capacity of this facility. It is very important at this stage in their development to separate the slow growers from the fast growers and we have to start determining new stocking densities in the silos. High densities of shellfish slow growth rates and may contribute to mortality and disease.
After sorting and cleaning the silos, I had the opportunity to assist in assembling the silos that will be deployed in the Roger Williams University upweller located over in Mt. Hope Bay. By the end of this week we hope to relocate close to half of the seed stock to the Mt. Hope Bay site.
I am reaping great benefits from participating in a lot of the mechanical work being done around here. It is certainly empowering to troubleshot and come up with innovative solutions to some of the practical gear problems encountered on this project. This is something that will certainly be of great value back in the classroom. The ability to construct and deploy some of this equipment suddenly doesn't seem like such an overwhelming task. I hope to be able to do some shellfish culturing in Apponagansett Bay back in Dartmouth this fall.